| Apple Podcasts | Spotify | Email
Automation berör oss alla. Den finns runt omkring oss i vardagen och vi utnyttjar den för fullt; som konsument är man numera van att snabbt kunna jämföra två produkter, med hjälp av digitala beslutsstöd. "Automation är att lösa en uppgift med maskiners hjälp, för att göra jobbet effektivare – och i förlängningen ge oss människor superkrafter!" Eller bara ge oss tid till viktigare saker. Men det finns rädslor kring begreppet. Försvinner mitt jobb? En del som arbetar med automatisering blir hotade till livet. Möt Fredrik Scheja, testarkitekt och expert på att automatisera test i mjukvarubranschen. Han beskriver hur den tid som vinns vid automation används av testare till att stötta med krav och ge mätbara värden i verksamheten – istället för att jaga småbuggar.
Det handlar också om en ändrad inställning till sitt eget arbetsliv. Man måste inse att målet med sitt yrke inte är att leda eller göra aktiviteter, utan att skapa värde och ta smarta beslut. Då kan vi anamma automation och se maskinen som ett stöd istället för en fiende.
Videoavsnitt: Automation är inte så farligt? Fredrik Scheja. (Video # 84)
Fredrik Scheja, Mikael Norbäck, Jonas Jaani (14:01)
prenumerera – podcast Effekten
iPhone, Android, e-post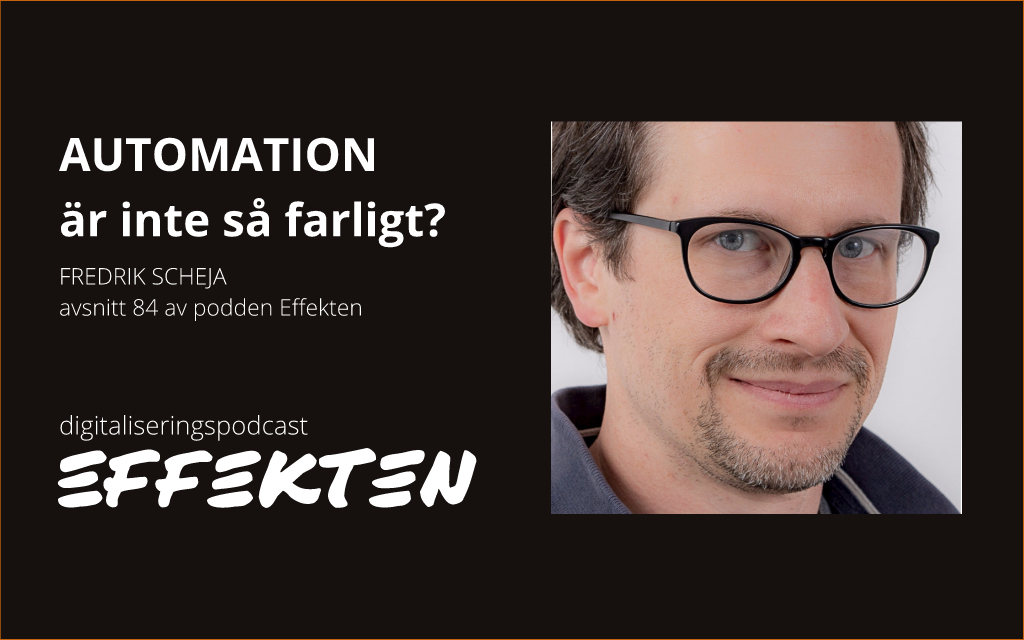 Mer länkar / material:
"In Code We Trust": Report 2 of 4 in Digital Happiness Series
Metrics Driven Development and DevOps
Upskilling your people for the age of the machine
Följ oss på LinkedIn och prenumerera på podcasten Effekten. Vi inspirera, delar erfarenheter och kunskap om digitaliseringen. I bloggen så finns aktuella ämnen och på Twitter finns kortare inlägg om allt digitalt.  Aktuella poddavsnitt: skolan, cybersecurity, gigekonomi, ux, digitaltransformation.